Red Dog Plumbing are specialists at fixing blocked drains in Melbourne and can arrange for a CCTV Drain inspection system. This means the interior of the drain is inspected and we can assess what is causing the drainage problem. Drain inspections can save you time and money! We also have specialised drain clearing equipment that can quickly resolve simple blockages.
Blocked toilets, sinks and showers cleared by the Western Suburbs most dependable emergency plumber
As well as being an annoyance, a blocked toilet, blocked sink or shower can occur at the worst possible time. Red Dog Plumbing has fully qualified plumbers that are available across Melbourne's West. We carry equipment on hand to unblock any toilet, sink or shower fast with a minimum of hassle. If you need it unblocked now by Williamstown's most reliable plumbers, call us now on 0418 532 134, just holler and we will come.
Blocked Drain Repairs
If the water in your toilet, sink or bathroom basin taking longer than usual to return to normal level after you use it, you most likely have a blockage which needs to be cleared before it gets worse. Our fully qualified and experienced plumbers can clear any type of blockage, and can give expert and reliable advice on the current condition of your sewer system.
If it's a problem with your sewer pipe, scroll down the page for more information on how we deal with such issues.
Blockages fixed
Red Dog Plumbing can fix your blockage 7 days a week across the Western Suburbs of Melbourne from Williamstown to Werribee and everywhere in between. Within our service we can get to you quickly and at an agreed to time.  The Red Dog vans have Credit Card & Eftpos facilities for easy, on-the-spot payment, and only charge standard rates during standard hours, even when it's an emergency.
Blocked toilet, sink and drain clearing
Red Dog make every effort to unblock your toilet, sink or drain as thoroughly as possible with the latest equipment, but there are a few reasons why these items become blocked again after a short period. They include:
Tree roots – Roots entering your drains are the most common cause, and depending on the type of tree, can re-grow into a cracked pipe or pipe joint within 3 to 6 months.
Broken pipe – Rough edges of a drainpipe break can catch waste material from the toilet, causing repeated blockages until the drain is repaired. If this is the case, we will recommend further action such as drain repair and/or replacement, trenchless pipe repair, or inspection of the drain by CCTV camera.  Red Dog Plumbing partners with Drain Clear a reliable and reputable company, and can arrange a camera inspection to pin point the problem, saving you money if a repair is required.
Other obstructions – Red Dog recommends that you never dispose of man-made items down the toilet such as baby wipes, make-up wipes, flushable wipes, disposable cleaning wipes and sanitary items etc. as these can get caught in the toilet or sewer pipe causing a blockage. Advise children or other people in the household how to dispose of these items safely.
You Can Call Red Dog Plumbing now for reliable and fast toilet, sink or drain blockage clearing.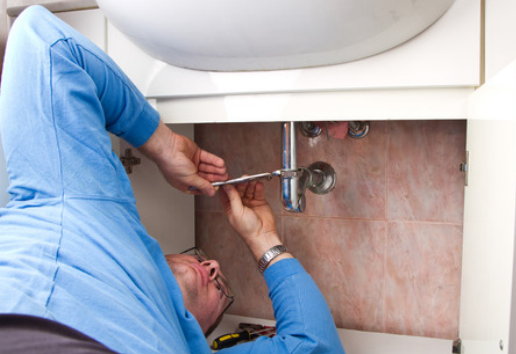 Why call Red Dog Plumbing?
Western suburb residents rely on us for a number of reasons.
We have over 20 years of plumbing experience
Our plumbers combine up to date industry innovations and deliver great results
Fully qualified and insured staff along with police checks for your peace of mind.
Over 10 years estimating experience that provides you with accurate quotes.
No matter what time of day or night you experience a problem, we offer emergency plumbing to fix your problem!
Make Red Dog Plumbing your first choice for friendly and reliable plumbing services, for blocked drains in Melbourne.